Andrew Murdoch, our Managing Director, is the special guest on the latest episode of podcast Economics Explored, which dropped this morning, where he gives expert technical-commercial knowledge on the transition to net zero in Australia.
In his discussion with hosts Gene Tunny and Tim Hughes, we hear Andrew's grounded, hopeful insights into the challenges of integrating renewable energy into the electricity grid.
Andrew also suggests opportunities to use less popular technologies like carbon capture and nuclear energy.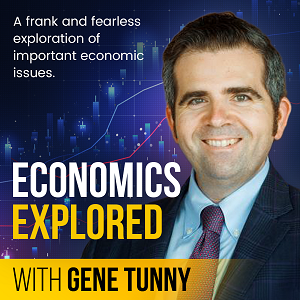 ---
Australia's transition to net zero
Gene, Tim and Andrew discuss ambitious renewable targets set by states including 25% renewables penetration in Queensland by financial year 2023. Andrew is positive about our progress so far.
"To date the transition is going very well. There are lots of excellent projects that are happening, and we've seen a significant increase in the share of renewable energy on the market."
Andrew illuminated various challenges associated with the energy transition.
"As renewable penetration increases it gets more difficult to manage, as we have to shift more power from times of high renewable generation, such as the middle of the day, to times when the wind isn't blowing and the sun isn't shining."
Andrew also evaluated other issues with renewable generation including the infrastructure challenge and the lack of development in clean coal.
"We are doing ourselves a disservice by not pursuing clean coal. It could be one of several solutions to lower carbon power in Australia."
Andrew also presented small modular reactors as a solution to coal-based power generation.
"They are a good option that we should consider for that very deep base load generation that is currently provided by coal in Australia."
"We need to address safety and we need to address waste because they are weaknesses in the small modular reactor options."
Economics Explored is a frank and fearless exploration of important economic issues, hosted by Gene Tunny of Adapt Economics.