Arche welcomes the recent announcement from Chile's Federal Government that it is investing US$2 billion in procuring 5.4GWh of energy storage systems and non-variable renewable energies.
Arche has strong ties with Latin America as our Senior Consultants Abel Quintero (Chile) and Daniel Nieto (Colombia) are active in the cross-border business and research communities.
Chile's impressive commitment is in addition to the 5GWh that the country is already seeking to provide in 2027–28.
The Comisión Nacional de Energia (CNE) recently issued preliminary bidding information for the procurement. Work is divided into three geographical zones — north, central, south — reducing the risk to operators of the plants to be in the market in one specific zone.
The delivery timeline is staggered, with 1,800MWh being delivered in 2027 and 3,600MWh in 2028 and the projects planned to provide energy to the National Electricity System under 20-year agreements.
The Atacama Desert region, known for its solar resources, is a prime location for these projects.
Chile has a strong track record of large-scale energy storage projects, having progressed a total of over 4GWh with companies like AES Chile, oEnergy, Fotowatio Renewable Ventures, and Engie Chile involved.
A huge factor in supporting Chile to build on its track record is the Government's show of support through its forward-looking action on legislation. In 2022, Chile passed a bill to facilitate the participation of large-scale energy storage in the electricity market and provide incentives for electric vehicle (EV) adoption.
This bill will encourage the infrastructure sector to roll out EV charging facilities more quickly and have a flow‑on effect of fostering future energy projects.
Chile's ambitious long-term energy targets include 70% renewable energy generation by 2030 and carbon neutrality by 2050. Reaching these targets will have to include significant intermittent energy from renewables, increasing demand for firming by using storage technologies.
Thanks to its leaders' decisive action, market conditions in Chile are looking great for the deployment of more large-scale energy storage systems, with several projects already in the pipeline.
There is enormous potential for more renewable energy projects in Chile. The development of solar PV and wind farms has already accelerated since the new legislation, which you can in the key energy statistics from the IEA as shown in the figure.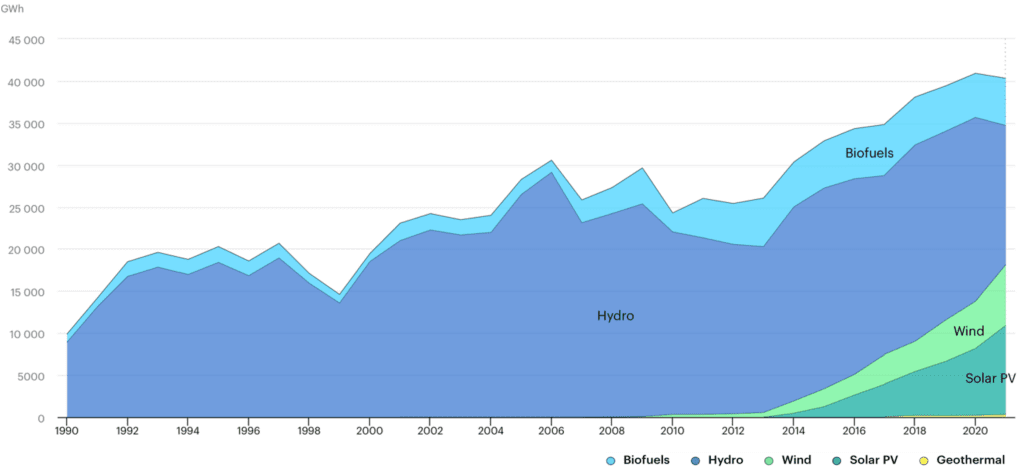 How Arche can support these ambitious targets
Arche Energy is an energy advisory consultancy based in Brisbane, Australia, with significant expertise in the development of large scale BESS projects. We support developers with technical and commercial due diligence, layout design, bid preparation and tender evaluation.
Two of our Senior Consultants, Abel Quintero and Daniel Nieto have professional experience and networks in Latin America, including in the energy sector in Chile, particularly in renewables and energy storage.
Contact Abel or Daniel today to discuss how we can support you to leverage the opportunities waiting for you in Chile.